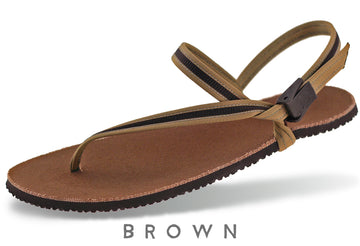 Handcrafted in USA
Order within
Ships
The Chronos will keep you secure and in tune with the earth's natural rhythms—at every step. The minimalist nature of Earth Runners sandals offers a gentle reminder to yourself–and others–of the oneness you share with the Earth.
The Performance laces featured on the Chronos Adventure sandals provide ultimate security and longevity on all of your adventures.
ReEarthRunners was created to bring new life to sandals that are in perfectly functional condition. The sandals you receive may be a discontinued model, lightly used return, or feature a cosmetic factory defect, depending on what we have available. Learn more about our process here.
Weight: 5.9 oz  (single sandal, men's 9 / women's 11)
Thickness: 9mm = 7.5mm base + 1.5mm tread
Sole:  Walkbase® Outsole
Footbed:  Earth Grip 

Moisture-wicking Canvas
GOTS (Organic) Certified Small Batch Dye
Laces:  Grounded Conductive Performance Laces™

9/16" Mil-Spec Reinforced Webbing
Earthing Plug & Conductive Stainless Steel Thread
Shipping